People in Tribal Habits have both Standard Fields (default fields within Tribal Habits) and Custom Fields (unique fields for your organisation).
For those organisations which want to filter their reports or manage large groups of people, the use of up to 20 Custom Fields can be very handy. Custom Fields are managed in the Account area of your portal.
Setting up custom fields
Step 1 - Go Admin / Account / Fields. Edit the Custom Field panel.
Step 2 - Type the name of your first custom field and press enter. You can then continue to add new custom fields just by typing their name and pressing enter.
Step 3 - Press SAVE to save your new custom fields.
Step 4 - OPTIONAL - Select up to 5 custom fields to be used in online reporting and filtering boxes using the FILTER checkbox. These would be your 5 most useful, common or important fields which you would use to filter quick online reports. Remember that all custom fields will be included in any CSV downloads for detailed offline reporting.
Step 5 - OPTIONAL - Select which fields you would like to be visible to each user on their Profile on their dashboard using the EYE checkbox.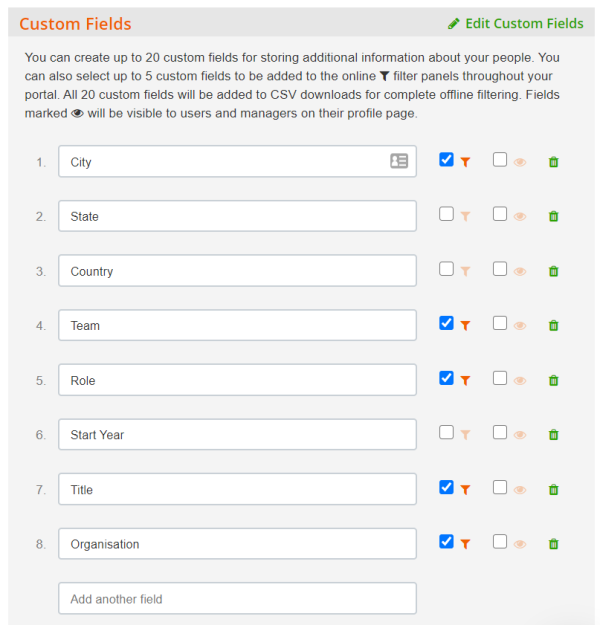 Editing and changing custom fields
To rename an existing custom field: Just edit the Custom Fields panel (select the green pencil icon in the panel title), change the name of the field and save.
To delete an existing custom field: Just edit the Custom Fields panel (select the green pencil icon in the panel title) and use the green trash icon to delete any fields. This will delete all the user data stored in that field as well. You may want to download a CSV of all user data first to be safe.
To move an existing custom field: You cannot change the order of how fields are displayed. So this is something to give thought to when initially setting up your custom fields. That being said, the order is just for online display. It doesn't impact or restrict any features.
Adding data to custom fields
You can add data to custom fields just as you add data to the standard fields. You can either edit an individual person to add data or use the 'Upload People' button to upload and map data into your custom fields (including adding new fields or updating existing data).