If you would like to survey explorers in a topic, Creates can add the POLL element from the Content box when editing a topic or article. You can then specify your question and provide 2-10 possible responses. After an explorer completes a poll, they will be shown the aggregated responses from all explorers.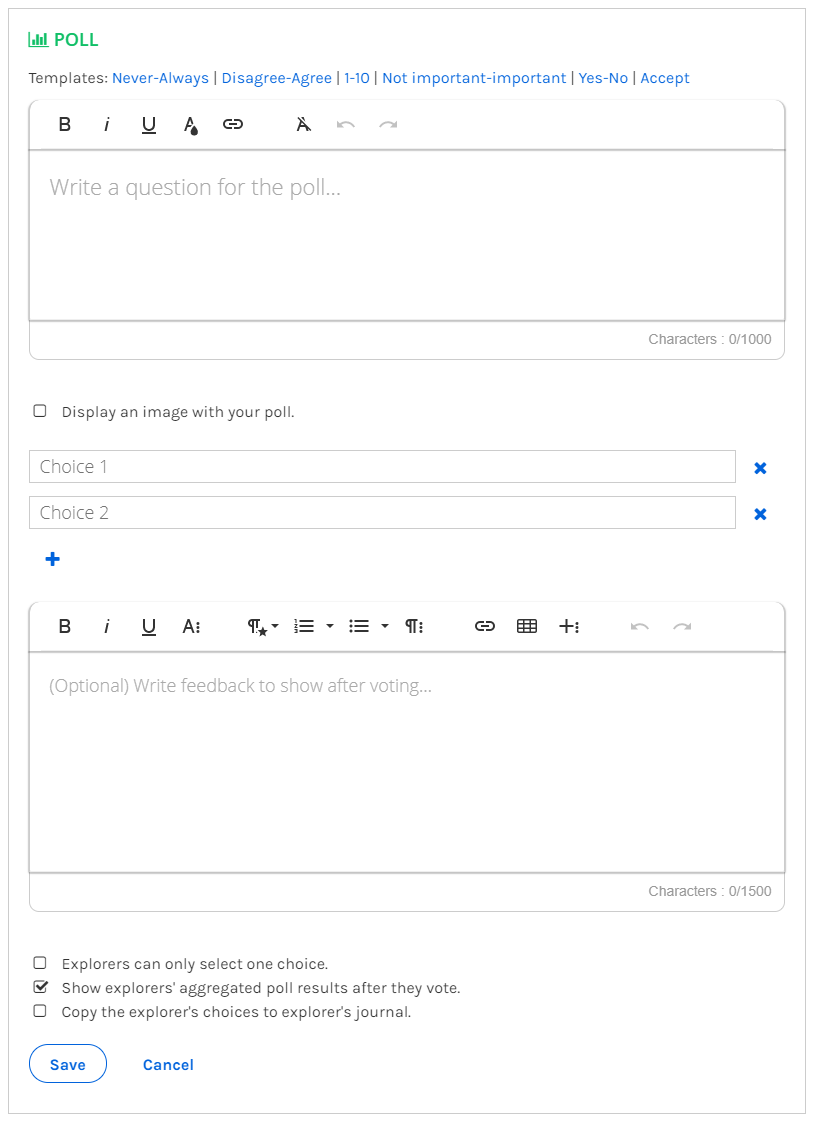 Option - Templates
When you create a poll, there are some template poll options you can select to pre-populate your poll common types of answers (e.g. most to least useful, 1-10, most to least important).
Option - Explorers can only select once choice
By default, polls all explorers to enter many answers. If you want to limit answers to one, select this option.
Option - Show aggregated poll results after explorers vote
This is a useful option when you want to run a poll but keep the results secret. It also allows you to use Polls as questionnaires, when sharing aggregated data just wouldn't make sense (such as an Employee Exit Interview).
Option - Copy the explorer's choices to explorer's journal
If selected, when an explorer completes a poll, a copy of the poll question and the explorer's answers will be copied to their journal. It is a fantastic tool for polls about next steps or areas for improvement, as it quickly captures the explorer's thoughts for use in Activities or 1:1 discussions with their stakeholders.
Option - Polls with images
You can also add an image to your poll by checking the related option below your poll question. You can then upload an image or import an image from our library, which will be displayed between your poll question and the choices. You can also use the Image Editor to edit your image - crop it, add notes or change the filter.
Tips on using Polls
Polls are a great way for explorers to reflect. It might be on what they have previously done or how they currently feel about something. Since explorers can see the results from all other explorers, polls are also a terrific way for explorers to compare their results or feelings with others. Reflection or comparison are the main uses for a poll from a learning perspective.
However, you can also use a poll for data or reporting. You can create polls to collect workplace feedback or thoughts on a topic, as part of the process of learning. All poll data is available to Admins in the reporting on each topic.