You can easily upload new people or update the data for existing people using the 'Upload People' button in the People area of your Admin view.
You can also use this function to upload groups of people for enrolments in topics and pathways. The process starts by selecting the Upload People quicklink in Admin/People.
Step 1 - Create File

As stated on that page, the key information for preparing your CSV is...
Rows: Each row represents a single person. New user names will create new people, while existing user names will update changed data for existing people. The first row must be a title row listing field names (in any order).
Columns: Each column represents a single field. Required fields must contain data, while your custom fields can be left blank or left out. Fields can be in any order. You must have these five columns: user name (must be unique), First name, Last name, Email (must be valid email address and unique), Type (which is one of Staff, Client or Prospect).
Here are some tips to make this process easier.
You can download a CSV of your existing people to provide a template spreadsheet you can use.
You can use an 'Active' column to activate or deactivate people. Use Yes, True or 1 to activate or No, False or 0 to deactivate (all case sensitive).
Always do a small test upload first, to check your mapping is correct.
Try to limit your uploads to 50-100 people at a time. While larger uploads are possible, they can take some time to execute and result in many emails being sent to your learners (which can trigger alerts in sensitive email or IT systems).
Step 2 - Choose File
With your CSV saved, you can now upload it into the platform for checking.
Step 3 - Map Columns
You will then be able to map your CSV data into your Tribal Habits fields.
If your field names exactly match column titles, much of the mapping will be automatic.
If not, you will need to select the Tribal Habits field which matches your column headings from the dropdown choices.
If your spreadsheet contains data which cannot be uploaded (or does not need to be uploaded) you can select 'Ignore this column' from the dropdown.
We show the first three rows of data from your spreadsheet beside each column title so you can confirm you have made the right selections.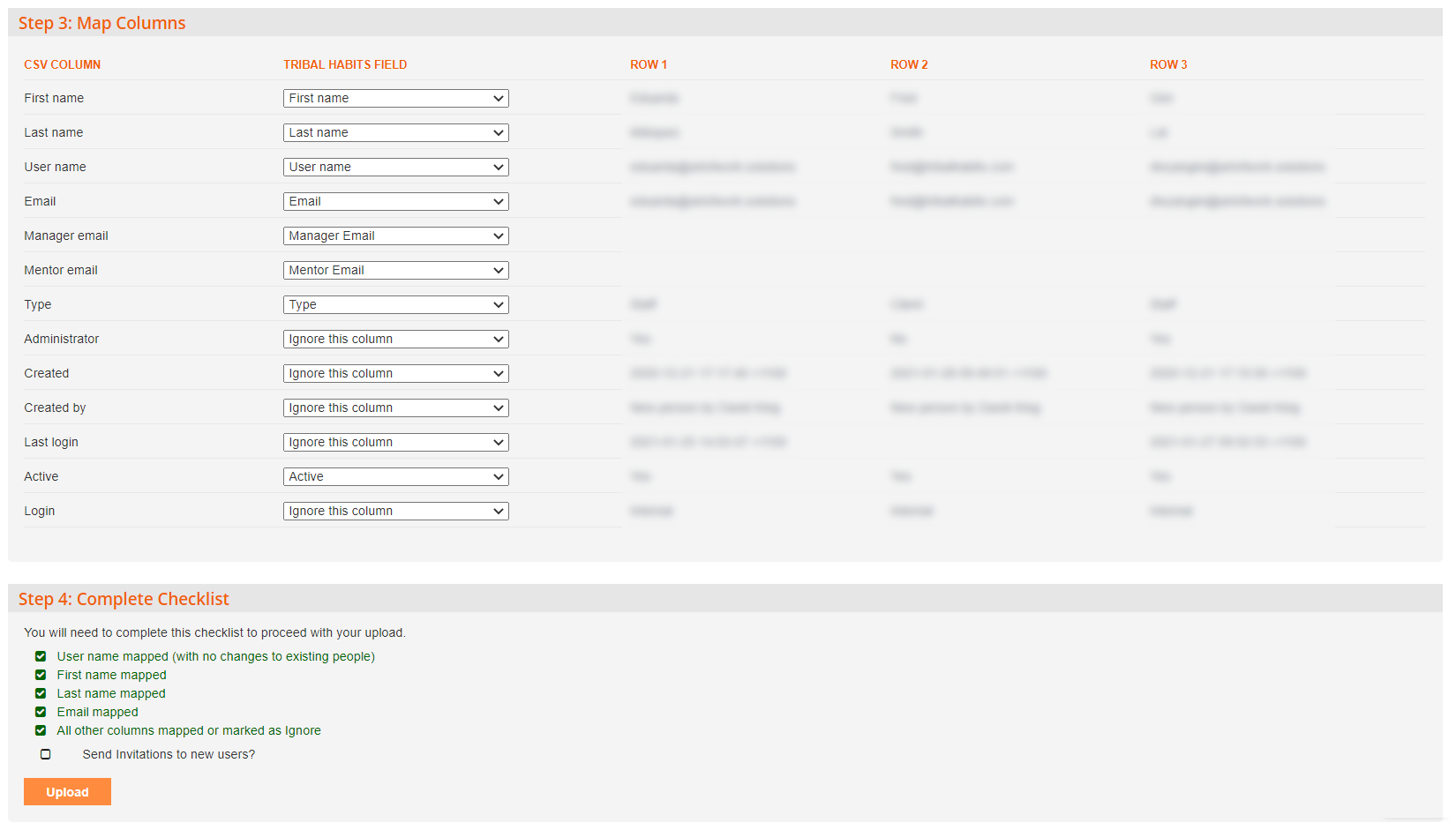 Step 4 - Complete Checklist
Once you have completed the checklist in Step 4, you can begin the upload.
First, you must have the required columns of user name, first name, last name and email address and have them mapped to the correct four Tribal Habits fields.
Second, you must have all other columns mapped or mapped as ignore.
Optionally, you can then select to send invitation emails to new users during the upload. This will only trigger for new users (not updated existing users).
You can then commence the upload. You will then receive feedback on the success of the upload or any errors in the CSV preventing the upload.
FAQ: Can I use this process to update data of users?
Yes. This function will update existing people as well as create new people. As noted above, when an existing user name is found in the CSV, their data will be updated to match the new data in the CSV file.
FAQ: Can I change user names via this process?
No. At the moment, user names cannot be changed via bulk upload. The user name field is the unique field used to match the data in your CSV with existing users. If you change the user name field, then we are unable to match each row to the correct user - this results in the platform trying to create a new user with that user name, but encountering an existing email address, which causes an error.
If you need to change user names you should...
Change manually by editing each person.
Contact support if you need to do a bulk change for a large number of users and we can discuss how to help you with that.
FAQ: Can I also use this process to manage enrolments?
Yes. This same process can also help you enrol groups of people into topics and pathways. Please see this detailed article for enrolments via this process.
FAQ: Can I also use this process to assign Roles?
Yes. If you are using our Roles feature, you can upload and assign roles by mapping roles into the Role 1 to Role 5 fields. Note that the roles you are going to upload must already exist in your portal and the name of the role in the upload CSV must exactly match the name of a role in your portal.