In addition to manually enrolling users into training, you can also use enrolment rules to enable self-enrolment by users into training. Enrolment rules dictate which topics or articles are made visible to each user on their Dashboard. So they also help you create and manage separate libraries of training for different types of users.
Start by filtering your users
The first step in creating an enrolment rule is to go to the People view in your Admin area and create a search which matches your rule.
This is a good time to check that the users from the search are good representations of the users you want for this rule!
You can also activate a saved search if there is a popular search you want to apply to a new topic.
Save your enrolment rule
When you are happy with your search, you will see an option to 'Save rule' (at the end of the filter box and its selected search options).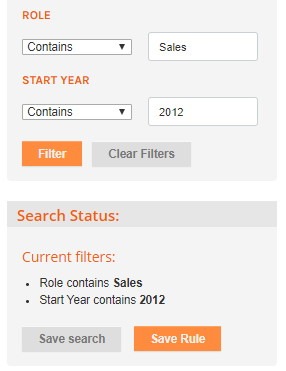 Selecting 'Save rule' will allow you to choose which topic, article or pathway to apply this rule to. Your rule will then be added to that topic, article or pathway. You can select multiple topics, articles or pathways to apply a common rule to a group of topics at once.
Note that only public topics and public articles are available for new rules.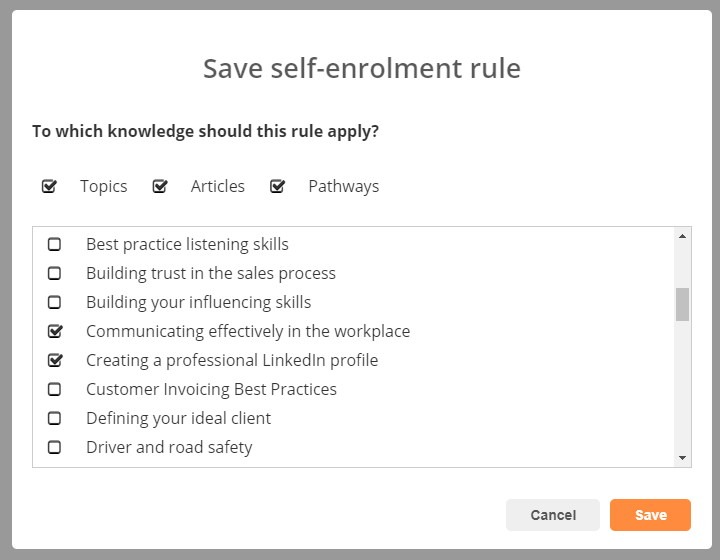 How do explorers view their self-enrolment options?
Explorers will see a Find Training button on their dashboard if any topics, articles or pathways are available for self-enrolment by them. They will not see that button if they have already enrolled in all available knowledge and there are no other topics, articles or pathways available with self-enrolment rules they match.
Manage your enrolment rules
When you examine a topic, article or pathway, you will see if any enrolment rules have been applied to the topic on the Access tab and in the Self-Enrolment panel. Topics, articles and pathways can have multiple rules. You can also delete any existing rule if no longer needed.
You can also see which rules are applied to each topic, article or pathway in the list of all those items in the Admin area.
NOTE: You cannot edit a rule. If you need to make changes, delete the rule and recreate the search settings for a new rule.

Bulk-enrol via an enrolment rule
Finally, you can also use enrolment rules to instantly enrol matching users. Pressing 'Run rule' beside any enrolment rule in a topic, article or pathway will immediately enrol all matching users who are not already enrolled. This can be a good process when you need to periodically enrol all new users matching the rule.
NOTE: This will also trigger the Manual Enrol email notification if enabled in that topic, article or pathway for all newly enrolled users.